Events : Event Detail
- From Friday, October 22 2021 to Tuesday, October 26 2021
MEAT- TECH 2021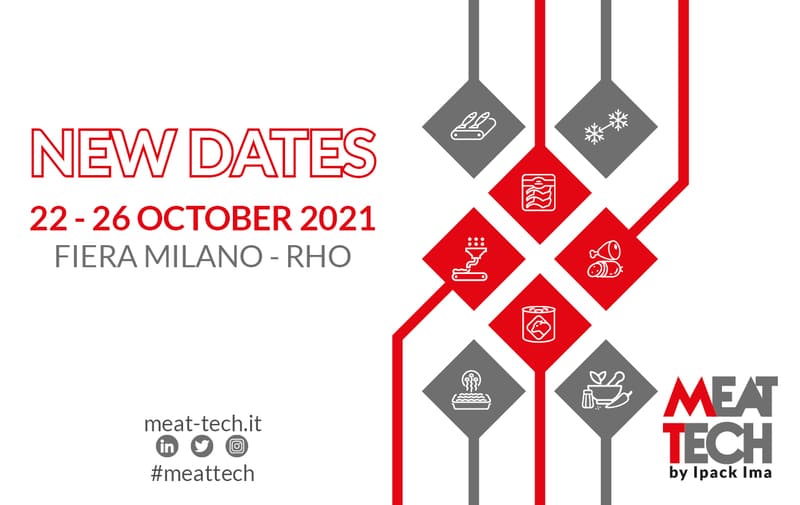 The meat industry meets in Milan at MEAT-TECH 2021, the third edition of the fair specializing in innovative technologies and solutions for the cured meats, meats and ready meals supply chain.
Complete lines, technologies, materials and intelligent solutions for processing, transformation and packaging, but also flavorings, spices and ingredients.
Quality, innovation, traceability, safety in production and cold chain processes for 360 ° reliability and sustainability throughout the supply chain.
Environmental sensitivity, attention to green, food safety and technology, the trend topics of the third edition of the exhibition.
A privileged stage to catch new trends and discover excellence and best practices, in which the entire reference industry identifies itself.
In fact, the following associations are strategic partners of the event: UCIMA (Union of Italian Manufacturers of Automatic Packaging and Packaging Machines), ASSICA (Industrial Association of Meat and Salami) which represents the production companies of cured meats (processed pork products and bovine) and swine slaughtering, and ANIMA ASSOFOODTEC (Italian Association of Manufacturers of Machines, Plants, Equipment for Production, Processing and Food Preservation) with the various member associations: COMACA, Italian Manufacturers of Meat Processing Machines; Slicers, Meat Grinders and Similar Manufacturers; the Union of Refrigeration Plant Manufacturers.
»» Ask for the availability to stay in this period ««
Back